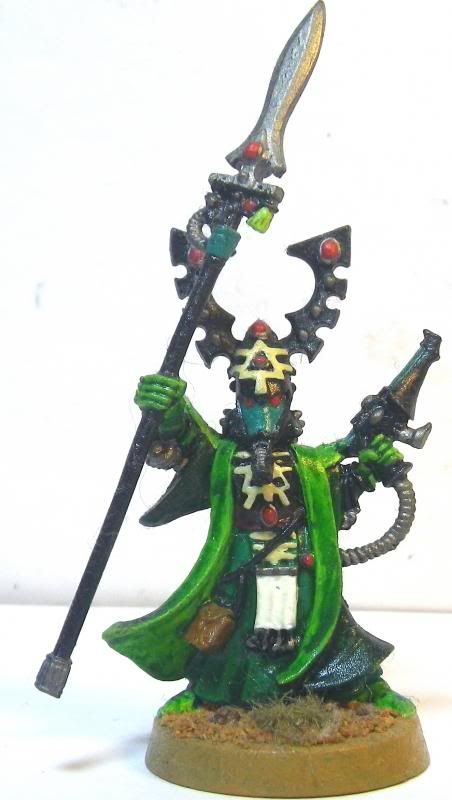 Farseer
The Farseer is the iconic Eldar HQ, a psyker designed to augment the rest of the army around him. As a level 3 psyker with access to the Runes of Fate, Divination, and Telepathy, the Farseer is very capable in this role. Otherwise, he doesn't do much. With his witchblade, he can do a few reliable wound in combat but he won't kill much. Armed with a singing spear, he can add some short range shooting to a squad and reliably damage vehicles. With a 4+ invulnerable save, he's not easy to kill but not too tough either.
On the table, the Farseer just needs to stay alive and within range to use his powers. The best way to do this used to be to give him a jetbike. However, I don't think that's so necessary now that his powers have a much longer range. If you have points left over, Runes of Witnessing would be useful to make sure he passes a critical psychic check. I'm not so sure about the Runes of Warding; they seem very situational. As far as the Remnants of Glory, only the Spirit Stone of Anath'lan really benefits the Fareseer. It allows him to reduce the cost of any power by 1, to a minimum of 1. This is pretty useful given the number of Warp Charge 2 powers in the Runes of Fate. However, using it means the Farseer can't use his invulnerable save until the start of his next turn. That's a pretty hefty penalty, but if you can protect the Farseer, it may be worth it.
Overall, the Farseer is a great addition to any Eldar list. He primarily aids a shooty list, but it's 6th Edition Eldar; of course you're playing a shooty list. Keep him out of direct danger and he'll make your army much more efficient.