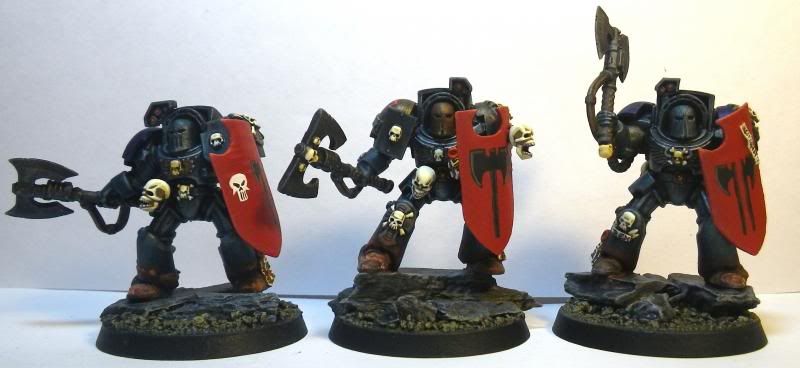 Despite my attempts to make my army more competitive, I still didn't do so well. Now, that certainly has a lot to do with some bad match ups as well as poor decisions on my part (especially in the first game). Still, there are significant problems with my army list (which made those match up so bad). I simply have no protection against large blasts that go through power armor, and I can't get to it quickly enough to destroy it. I just have to wait for my flyers to engage it, and they are usually too busy dealing with enemy flyers or anti-air units.
Speaking of flyers, it seems to me that the Stormraven is far better at being a gunship than at delivering Terminators into assault. While they almost always reach the enemy, the Stormraven is killed as soon as it drops into hover mode. The problem is that I need the Stormraven's guns much more than I need the Terminators in assault. I am thinking I would be best off without the Terminators.
I can see two ways to improve this army. The easiest (since I already own them) is to add Rhinos to my squads. I know everyone online dislikes Rhinos, as they allow the enemy to grab First Blood. However, I seem to lose First Blood as often as not, so I don't see this as a massive concern compared to getting my army into optimal engagement range. Moving 18" a turn, Rhinos will easily do this.
The second option, and probably the best, is to convert the army into a drop pod force. Given the number of pods I would need, that's a bit price prohibitive. I'll be playing with the Rhinos for the moment, but the pods may be added in the future. I'll be waiting to see what the new Codex: Space Marines brings.