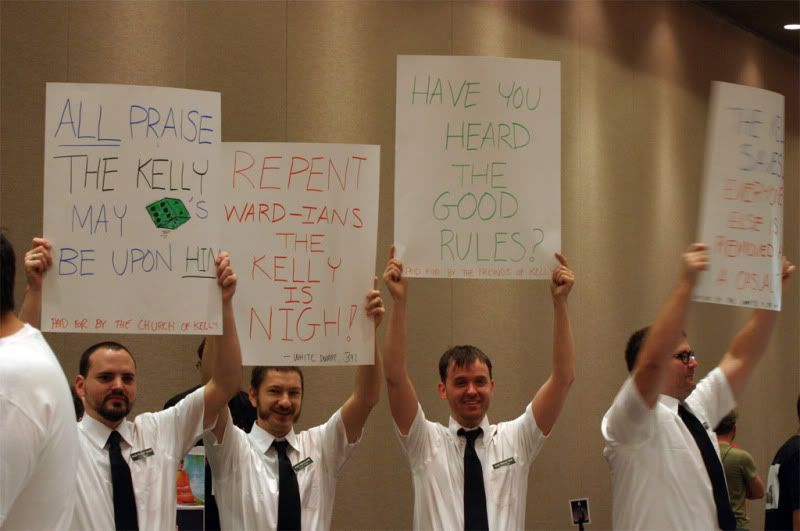 I've been hearing a lot of talk lately about what codex author people prefer. Nobody likes Robin Cruddace's books, but people seem really split on Matt Ward and Phil Kelly. I think this all started as a joke with the Church of Kelly, but people seem to be discussing it seriously. The overall perception seems to be that:
1) Ward codices are cut-throat competitive but one dimensional, producing only one or two good builds.
2) Kelly codices are fluffier, more well-rounded, and have more competitive builds. It's argued that they stand the test of time better.
I started thinking about it, and I really don't think this pattern holds up. The main argument for Matt Ward writing hardcore codices is the Grey Knights. I'll completely grant this fact, as Paladin lists are at least rock hard and always look the same. The only other codex I can think of that produced such a one dimensional death star list is Codex: Orks with Nob Bikers. It's worth noting that this was a Phil Kelly codex.
On the other hand, Phil Kelly is touted as the author of the Dark Eldar and Chaos Space Marine books, both of which are excellent codices allowing multiple builds and with a variety of fluffy yet useful units. The same applies to Codex: Eldar, though it is showing its age. However, people tend to leave out Codex: Space Wolves. As far as one-dimensional lists go, it's hard to beat the Space Wolves. While there are a multitude of fluffy units, how often do you see anything other than Grey Hunters, Long Fangs, and Rune Priests?
Matt Ward, however, wrote the Space Marine and Blood Angel codices. Both books are well-rounded with very few obviously bad units (and nothing as ridiculously over the top as Thunderwolf Cavalry). In fact, I routinely here people say that Blood Angels is one of the most balanced codices in the game, with a multitude of useful builds that all compete well without being easy wins. In addition, he wrote the Necron codex, which is widely touted as an interesting, multi-faceted book.
My point is that both authors have wrote predominantly fun, fluffy books that have improved the game in my opinion. They each have written one arguably over-powered codex recently, in the form of Grey Knights and Space Wolves. As far as I'm concerned, I'd be really happy to hear that either author is writing the codex for my favorite army.