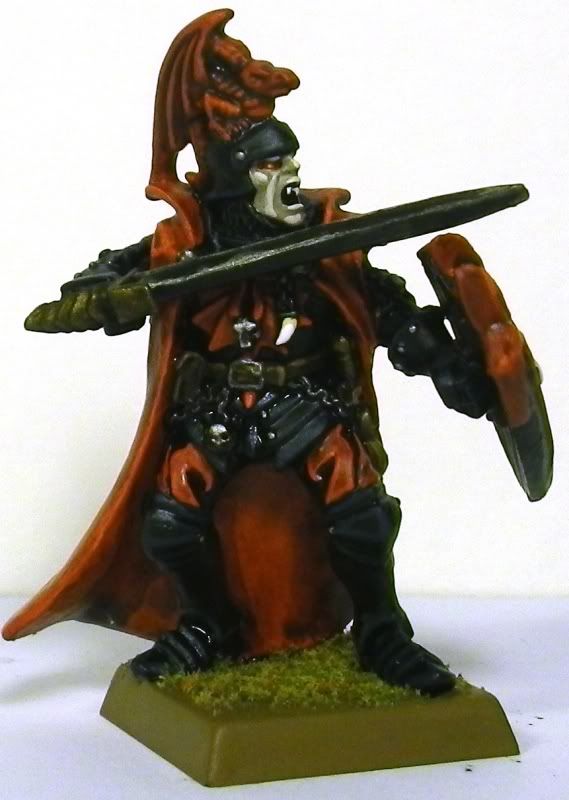 I'm slowly trying to turn my collection of undead into a viable 2,500 point Vampire Counts army so I can get back into Fantasy. I blame Ben and Tom, hosts of
Bull City Wargaming
, for reigniting my interest in Fantasy. Check it out if you haven't yet. They cover a variety of games, but they do seem to have a Fantasy bias.
Anyway, I've had this model sitting around for years, and I picked him up and decided to paint him while I waited for the washes to dry on my Executioners Terminators. He went pretty quickly, and I finished him shortly after the Terminators. He's a fairly standard model, but he's significant to me for a few reasons. First, I've always painted my fantasy models with metallic armor. While it looks okay, it's very standard and boring. This is my first attempt to paint plate armor using non-metallic colors, and it looks way better than my vampires in standard silver armor. As a side note, the P3 paint Coal Black is a great way to highlight black while keeping it looking black. I used it on the armor here, and it adds definition without really lightening the color.
Second, I used a special shield from GW's extra Vampire Counts shield sprue. I bought them even longer ago than the vampire, and while I liked them initially, they're a bit campy. However, I was watching an old Hammer Horror vampire film with Christopher Lee and Peter Cushing while I was painting, and it helped remind me why I played Vampires to start out with. I went with a bat shield and couldn't be happier with how it turned out.
If you're sick of the way vampires are portrayed in movies lately, find any film with Christopher Lee playing Dracula. It'll remind you that vampires are the bad guys, and are terrifying even if they are a bit goofy at times.