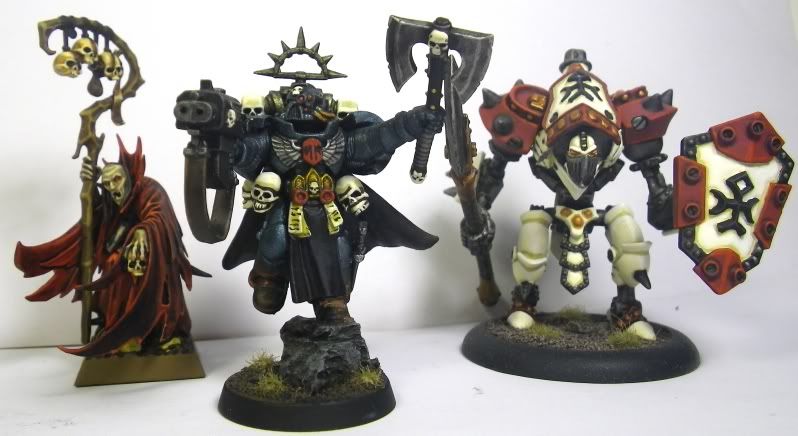 As is obvious from my blog content, I'm primarily a 40K player. My Blood Angels and Executioners dominate my painting time, and one of them comes to the gaming shop every time I get a game in. However, this really was never my intention. I've got a decent sized Vampire Counts army for Warhammer Fantasy, and I have a good start on a Protectorate of Menoth army for Warmachine. Despite owning the models and the rules, I rarely get around to painting the models and never play these games. I don't have anything against the game systems; for years, I thought Fantasy was superior to 40K.
I think part of the reason is that doing well in a game is cyclical. I paint up units for my 40K armies, play some games with them, and decide what I need next. Then I paint up more models to fill in any gaps, and the cycle repeats itself. This keeps me motivated, but it also keeps me focused on one game.
The second thing is that I'm very comfortable with the 40K rules; I can happily set up my army and play the game smoothly. While I've read all the rules for 8th Edition Fantasy and Warmachine (multiple times, as I keep trying to get back into it but failing), we all know that reading the rules doesn't mean you know them. That only comes from experience. While I'm certain it wouldn't be difficult to set up a game with a veteran player of either system in order for them to teach me, there is a certain pride associated with already being a veteran player. This is just something I need to get over.
The final, and I think biggest hurdle, is that I don't feel like I play enough 40K. Every game is still an experiment with my army, trying new lists and units to see what works. This was true even in 5th Edition, but is even more so in 6th Edition. I've read that many people picked up an extra game system when they become tired of their first system; I just haven't hit that point.
Anyway, that's where I'm at. I've got the models to play a couple more games, but I still seem to devote all my hobby time and energy to 40K. This lead me to ask you:
Do you play multiple games? How do you split your time? Do you go through phases where each game is dominant or do you just play each as you feel like it?